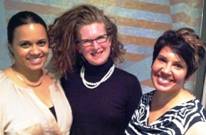 The Incubator Project: Phase One
Amalia Martino, designer Theresa Olson, and Priya Sinha Cloutier (Photo by Janette Turner)
By Janette Turner
Say you create an original design. Now how do you turn that into a business?
You protect your intellectual property and market it, according to patent attorney Priya Sinha Cloutier and publicist Amalia Martino, both of Edmonds. And because protecting and promoting your product are often more challenging than the initial creation, My Edmonds News is going to follow the process as two lucky designers go through Cloutier and Martino's "The Incubator Project."
The first step for Cloutier and Martino was selecting two designers for them to guide. Former Scriber Lake High School student Joshua Yohn was chosen for his Upper Left Apparel™ clothing line, and Theresa Olson's MotoVista™ scooter wear also made the cut to receive pro bono help.
Over the next six months, we'll follow Yohn and Olson as they trademark their designs and market their wares. Here's a look at each designer in the starting blocks.
Theresa Olson: MotoVista™ scooter wear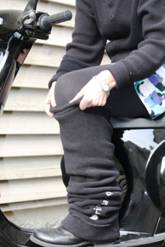 Prototype of MotoVista™ (Photo by Theresa Olson)
According to Theresa Olson, her MotoVista™ "line is specifically designed for riders who want to look good, stay dry, be safe and…get off their scooter and get to whatever else they have planned." Upon arriving at work, for example, a rider could roll down the protective leggings, instead of completely undressing.
After selecting Olson, Karr|Tuttle|Campbell attorney Cloutier noted the MotoVista™ scooter leg warmer was "inventive," but perhaps not patentable. Later, a search by Cloutier turned up a similar design patented some time ago, but, according to Olson, "the patent has expired so I am not in danger."
A takeaway from this for Olsen and all entrepreneurs, according to Cloutier, "is that you should determine whether your inventive product is patented. Finding out that you are infringing after investing time and money in a product will only cause heartache – and damages and lawyer's fees. "
The next step was submitting a Statement of Use for Olson's trademarks and waiting for them to issue, which is expected to take several months. In the meantime, Olson will be working with Amalia Martino of BlueShoesMedia™ on branding and marketing, and because Olson has a business plan, she is ready to roll.